Regular price
Sale price
$28.00 USD
Unit price
per
Sale
Sold out
Product details

- Product name :

- Net weight :

- Raw materials :

- Origin :

- Manufacturer :
Share View full details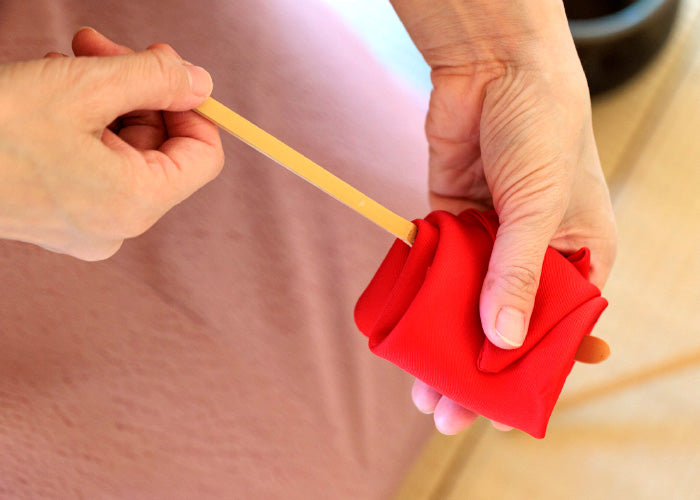 What is Fukusa?

Approximately 28 cm long and 27 cm wide cloth used in tea ceremonies. It is also called fukusa for use and fukusa for tea ceremony, and is written as fukusa and fukusa in tea ceremony. Vermillion, red, and purple are mainly used. Vermillion is used by Omotesenke women, red is used by Urasenke women, and purple is used by men. The host wears a cloth cloth around his waist, wipes and purifies the tea scoop and tea utensils during the ceremony, puts it under the tea utensils when viewing, and uses it when holding hot objects such as the lid of the kettle. The act of folding the cloth to clean the tea utensils is called Fukusa Sabaki.



How to choose Fukusa
The weight of fukusa is expressed in momme, and 1 momme is 3.75g.
The larger the momme, the thicker and heavier the fabric, making it firm and firm.
However, the thicker the fabric, the more difficult it is to handle fukusa, so it is recommended that beginners start with a thin fabric and gradually increase the momme.



Criteria for choosing fukusa



7 momme (about 26g) Slightly thin and easy to handle Suitable for beginners

8 momme (about 30g)Moderate thickness Suitable for beginners and intermediates

9 momme (about 33g)Plump and thick, suitable for intermediate and advanced users

10 momme or more Thick and suitable for advanced users
*: required, HTML tags will be removed.