Regular price
$150.00 USD
Regular price
Sale price
$150.00 USD
Unit price
per
Sale
Sold out
Product details

- Product name : Matcha tea powder

- Raw materials : Green tea

- Origin : JAPAN

- Expiry date : about 6 months

- Manufacturer : HOSHINOEN
Share View full details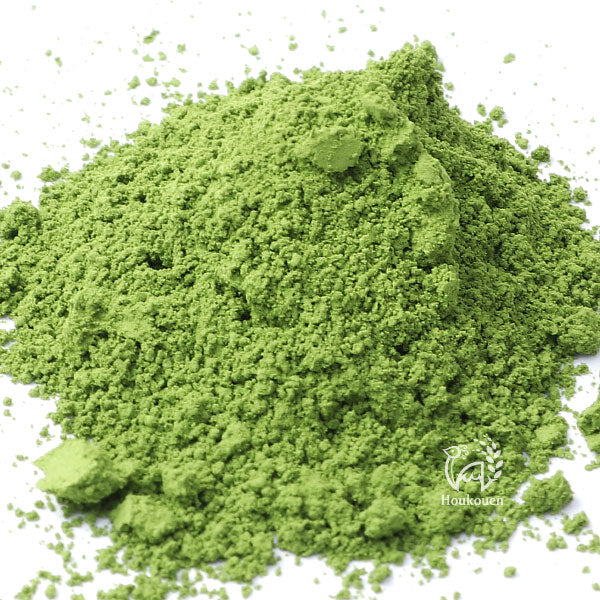 Introduction of "MOKUREN"
"Mokuren" is matcha for food processing, but it is manufactured with 100% stone mill, and the taste is not inferior to that for tea ceremony matcha, and it is a quality that can be drunk for tea ceremony. 
Product Details

♦Product name
:Matcha tea powder
♦Ingredients:Green tea 100%
♦No additives, no coloring
ABOUT HOSHINOEN
Hoshinoen is one of the most famous matcha factories in Japan. It is a relatively new factory that began producing matcha in earnest in 1989. It produces in Yame, Fukuoka Prefecture, which is famous for its sweet tea called gyokuro. The traditional gyokuro process is incorporated into the production of matcha to produce a high quality matcha with a sweet taste. They have the youngest artisan in history to obtain the 10th dan of tea master. It is not produced in large quantities, but is produced in small quantities with a commitment to quality.
HOSHINOEN Matcha Recommendation Buying Guide
First purchase of Matcha tea
"IKE-NO-SHIRO"

This is Hoshinoen's signature brand and best-selling product.
The aroma and taste of matcha green tea can be enjoyed, and it is widely used for tea ceremonies such as tea gatherings, as well as for presenting tea to guests and in stores.
For special occasions
Recommended for special occasions such as entertaining important guests or as a gift, when you want something a little better than the standard, a special taste.
The rich aroma and flavor of matcha tea is not only rich and deep, but also has a distinctive fragrance from the young buds, making it delicious.
For everyday use
It is recommended for daily casual drinking for everyday use.
It is recommended for a morning smoke or for daily practice.

For food processing applications
For use in drinks such as matcha lattes and for confectionery, we recommend Matcha MOKUREN for food processing.
You can enjoy the flavor of matcha, but for drinking, it has a slightly bitter taste that balances well with the sweetness of the tea.
If your budget allows, you can use matcha for tea ceremony such as "Matsukaze" or "Maki no Shiro" for better flavor and color.

HOSHINOEN Select by tea name

Hoshino village blessed with climate and soil.
HOSHINOEN is located in Hoshino Village, Yame District, Fukuoka Prefecture.The village is rich in nature, and the climate and soil are suitable for growing tea leaves.
The region is Japan's top producer of gyokuro, a representative of high-grade tea leaves.HOSHINOEN's matcha is produced using the traditional method of making gyokuro, using the finest tea leaves.





Commitment to ever-evolving flavors


HOSHINOEN has its own field for research and researches better cultivation methods together with producers.There are many tea specialists, and there is also a craftsman who is the youngest in history to obtain a 10th dan tea master.


Made with 95 millstones under strict control
In a room where the temperature and humidity are thoroughly controlled, 95 millstones are used to pull it up.They only make the quantity ordered.
This is to maintain high quality. Therefore, mass production is not possible.



Matcha lumps
Matcha may have small lumps that make it difficult to brew, but this is due to static electricity and is not a quality problem. This is due to static electricity and is not a quality problem. If lumps form, we recommend using a matcha sieve.


Matcha is a Japanese superfood.
Tea is rich in antioxidants, catechins that suppress sugar absorption and promote fat burning, and tannins that suppress and decompose fat absorption. In addition, chlorophyll has the function of efficiently excreting unnecessary cholesterol, and vitamin C works together with catechin to suppress melanin pigment, which is said to be effective in forming beautiful skin.

Matcha is made from the whole tea leaves, so you can take in all the rich and high-quality nutrients contained in the tea leaves.
*: required, HTML tags will be removed.
June 14, 2023 at 10:34 am

Hosinoen's matcha has a unique aroma and flavor.
These elements add depth to the flavor of my latte.